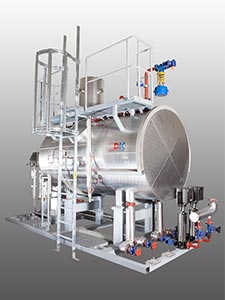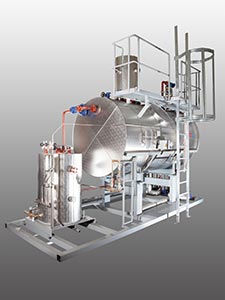 DK gas removal systems are designed to eliminate undesirable gases like oxygen and carbonic acid from the feed water. Our degassing facilities consist of a cylindrical or a rectangular feed water tank, which can be made of steel or of stainless steel. It features an integrated heating rod for the partial or the complete removal of gas.
For the complete degasification the fresh water is sprayed through a lance into the deaerator dome where it is degasified and cascades down a series of trays.
The process is regulated by a connected pressurized heater. The number of nozzles and condenser lances can be chosen freely.
DK pressure vessels are designed, manufactured and controlled in accordance with the pressure device directive 97/23/EC and the rules established by the "AD Merkblätter" (manuals of the pressure vessel working group). The pressure tanks of category I, II, III, IV bear the "CE" mark.
Pressure vessels that don't meet the requirements of the categories I to IV are manufactured according to the good engineering practices and are provided with a declaration of the manufacturer.
Features:
Tanks made of steel or stainless steel
Size from 150 to 30.000 litres (33 to 6600 gallons)
The number of nozzles and injection lances can be freely chosen
Complete or partial degasification
Inspection hatch
Touch screen control panel for easy operation
Complete installation on a base frame or on a skid
Security valves
Feed water system
Vacuum breaker valve
Safety devices
Overflow pipe with fittings
Insulation with stucco embossed aluminium jacketing; galvanized or stainless steel
Designed according to the boiler size and the system
Optionally with work platform around the facility
Special construction according to the customer's wishes